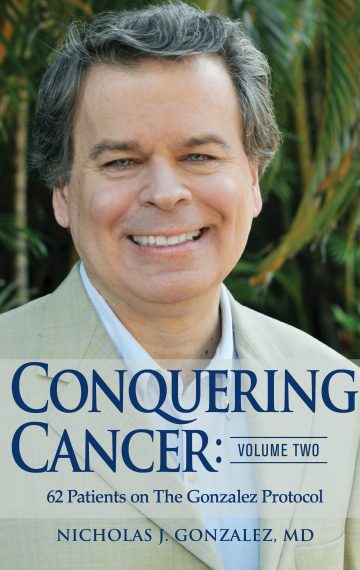 $44.95
Edition:

1st Edition

Available in:

Hardcover, Kindle

ISBN:

978-0-9985460-2-5

Published:

January 1, 2017
Buy at Amazon
Buy Here
62 Patients on The Gonzalez Protocol®
This second volume of Dr. Gonzalez's Conquering Cancer best case report series documents 62 patients on his nutritional enzyme therapy. The book details patients with 17 different types of cancer including: Adenoid Cystic Carcinoma, Bladder, Colon, Kidney, Liver, Leukemia, Lung, Lymphoma, Melanoma, Mesothelioma, Ovarian, Prostate, Salivary Gland, Sarcoma, Thyroid, Uterine, Waldenstrom's Macroglobulinemia plus a diabetes case report. This is a companion book to Conquering Cancer: Volume One – 50 Pancreatic and Breast Cancer Best Case Reports from Nicholas J. Gonzalez, MD.
All of these patients have documented diagnoses of cancer. Since The Gonzalez Protocol has also proven to be effective for treating many other degenerative diseases, this book also includes a reprinted peer-reviewed case study of a Dr. Gonzalez patient with insulin-dependent diabetes.
Types of Cancer Cases Included in Conquering Cancer: Volume Two:
Adenoid Cystic Carcinoma
Bladder
Colon
Kidney
Liver
Leukemia
Lung
Lymphoma
Melanoma
Mesothelioma
Ovarian
Prostate
Salivary Gland
Sarcoma
Thyroid
Uterine
Waldenstrom's Macroglobulinemia
PLEASE NOTE THAT CONQUERING CANCER IS NOT A "HOW-TO" BOOK. It documents the case histories of these miraculous patients under The Gonzalez Protocol. He does not detail the specific treatments for these patients because each patient requires a specific medical protocol based on his or her medical profile and type of cancer. All medical treatment for serious illnesses should be supervised by trained professionals and not dictated by another persons' medical history found in a book. These cases illustrate that there are other proven ways of treating cancer than those dictated by conventional medicine.
For more information about Dr. Gonzalez's work and The Nicholas Gonzalez Foundation, a non-profit 501 (c) 3 , please visit www.thegonzalezprotocol.com.