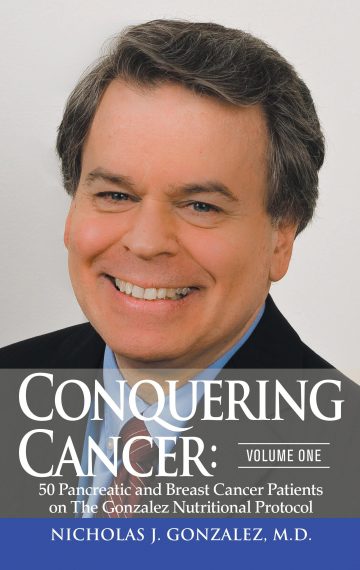 $44.95
Edition:

1st Edition

Available in:

Paperback, Kindle

ISBN:

978-0-9821965-5-7
Buy at Amazon
Buy Here
Order from your Local Bookstore anywhere in the World
Cancer Case Studies: 50 Pancreatic and Breast Cancer Patients on the Gonzalez Nutritional Protocol
Dr. Nicholas Gonzalez spent years compiling his patients cancer case studies to celebrate these courageous people and demonstrate to the world the effectiveness of The Gonzalez Protocol®. His research culminated in this best cancer case series: Conquering Cancer Volume One: 50 Pancreatic and Breast Cancer Patients on the Gonzalez Nutritional Protocol.
This is the first book in the Conquering Cancer book series Dr. Gonzalez documents the case histories of 14 pancreatic cancer patients and 36 breast cancer patients.
Conquering Cancer Volume Two includes 62 additional case studies covering 17 other types of cancer. Both books were finalists for the 2017 Best Book Awards. Dr. Gonzalez was finishing this book at the time of his unexpected death in July 2015. It has been edited for clarity with a few patient updates from his patient files.
REVIEWS
The best decision I ever made was to eschew Standard of Care, conventional medicine and follow the Gonzalez non-drug protocol. Nick does not use the word "cure" but I can. Today, I have NED … 'no evidence of disease.' I feel great, am perfectly healthy, have great energy, and am in the best shape of my life. I attribute my recovery to Nick Gonzalez. (January 2016)

– Suzanne Somers, Entertainer and Author of 26 books including Knockout – Interviews with Doctors Who Are curing Cancer and How to Prevent Getting It In The First Place
The late Nicholas Gonzalez, MD got true lasting results with these cancers … even to the point of cure. Based on the pioneering research of Dr. John Beard, his protocol uses proteolytic enzymes, diet, and detoxification with impressive success. Conquering Cancer provides a roadmap for doctors and patients who want something other than chemotherapy and radiation — and not just ephemeral hope but lasting success.

– Sally Fallon Morell, President, The Weston A. Price Foundation
Conquering Cancer reveals an approach to cancer treatment that squarely challenges what is offered by orthodox medicine. Anyone seeking a broader view of cancer treatment should study Dr. Gonzalez's compelling case histories. This book is a powerful legacy to a compassionate man dedicated to unraveling the cancer mystery.

– David Perlmutter, MD, FACN, Author, #1 New York Times Bestseller, Grain Brain: The Surprising Truth About Wheat, Carbs, and Sugar — Your Brain's Silent Killers