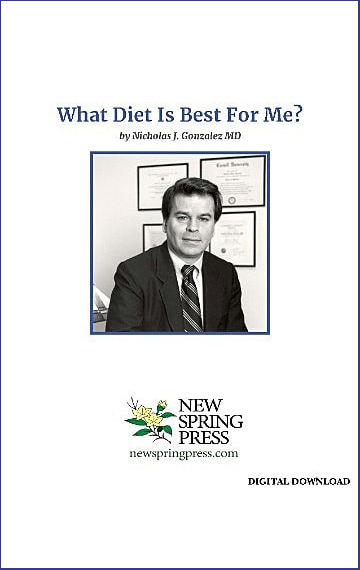 $4.95
Buy now $4.95
The Basics of Metabolic Type Diets
Read this short guide about metabolic type diets from Dr. Nicholas Gonzalez and learn how to protect your health by listening to your body not the experts.
Most alternative cancer practitioners recommend one diet for everyone, regardless of the tumor type, in a kind of "one size fits all" approach. Usually this proposed ideal turns out to be just another variation on the same vegetarian theme, with animal protein and animal fat demonized as the true enemy of all cancer patients and of life in general.
However, as those familiar with Dr. Gonzalez's work know, he thought quite differently, believing that each of us is unique not only in height, weight and shoe size, but also in terms of dietary and nutritional needs based on our metabolic type.
Dr. Gonzalez relied on metabolic type diets ranging from the nearly purely vegetarian to mostly red meat, with the fat, throughout the day. His predecessor Dr. William Donald Kelley spent years of his professional life insisting that one size doesn't fit all, that each of us is biochemically and nutritionally unique and each of us requires a diet designed for our specific metabolic needs.
"As long as we put the right fuel into our bodies by eating the right food for our metabolic type, the autonomic system will be in balance, both branches and the associated organs and glands will function efficiently, the body will work beautifully, and our health will be ideal. However, with the wrong fuel, the autonomic system will go out of balance, it will function less efficiently, the organs and glands will not work well together and disease follows." – Nicholas Gonzalez, M.D.
If you are looking for advice about the best diet for your metabolic type, you can take the Gonzalez Metabolic Type Test.