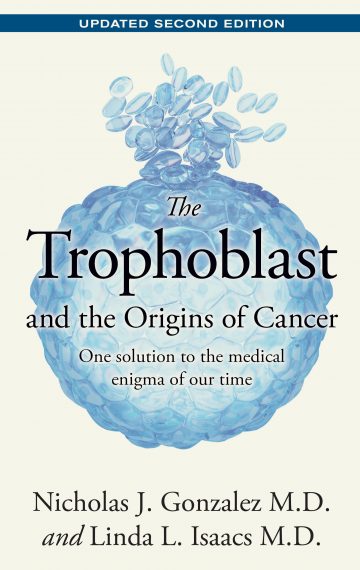 49.95
Edition:

2nd Edition

Available in:

Hardcover, Kindle

ISBN:

978-0-9985460-5-6

Published:

January 1, 2019
Buy at Amazon
Buy Here
One answer to the medical enigma of our time
This groundbreaking analysis reveals how more than 100 years ago, the English scientist Dr. John Beard uncovered the trophoblast as not only the likely origin of cancer but also its solution. Dr. Nicholas Gonzalez explains Dr. Beard's underlying theory from the perspective of contemporary molecular biology and explores Dr. Beard's pioneering use of pancreatic enzymes for cancer treatment. This book also showcases a series of case histories describing cancer patients successfully treated with pancreatic enzymes and The Gonzalez Protocol® by Dr. Nicholas Gonzalez.
See why cancer develops.
Discover the story of how Dr. John Beard developed an effective treatment for cancer in the early 1900s.
Learn how modern science confirms much of Dr. John Beard's thesis about the origins of cancer.
This book is intended for general informational purposes, not as a medical manual or a how-to book for self-treatment. Please consult with your physician before starting or modifying any treatment program.
FROM THE BACK COVER
Suzanne Somers, author of Knockout
Discover this book and discover the real possibility that cancer can be treated without toxic chemicals and through a purely natural, proven protocol. The cancer theories of Dr. John Beard flourish today in the work of Dr. Nicholas Gonzalez. Don't let the established medical community stifle this effective treatment again as they did in the early 1900s.
J. P. Jones, Ph.D., retired Vice President of Research and Development, The Procter & Gamble Company
During my research career in industry, I became convinced that one had to be a student of past research to optimize current and future research efforts. In this context, the 100-year-old cancer enzyme theory of Dr. John Beard—who seems to have discovered stem cells among his other achievements—deserves a new look as it is successfully practiced today under the scientific leadership of Dr. Nicholas Gonzalez. Everyone interested in cancer, or how medical research should work, should read this book.
REVIEWS
The Trophoblast and the Origins of Cancer is a fascinating book which will appeal to anyone who enjoys a scientific detective story … those who are treating people with this illness will find that this book enhances their understanding of this illness – and suggests promising 'new' options for treatment.

– The New Zealand Journal of Natural Medicine
The Trophoblast and the Origins of Cancer is a top pick for any interested in potential cures and their research.
The book is well-written and has an excellent introduction. Even though there is a lot of science presented, it is very clear and easy to understand, supplied with helpful color illustrations from medical textbooks.

– RebeccaReads reviewer Andrey Bilko
They write so clearly that even a layman can follow the medical side of the cause of cancer, the treatment and why it works.

– Amazon reviewer J.R.
The Trophoblast and the Origins of Cancer is an important and well-written book by two of the leading practitioners in alternative medicine.

– Owen Fonorow reviewing in the Townsend Letter
Thanks so much to Drs. Gonzalez and Isaacs for bringing us the complete, well-documented explanation!

– Jonathan V. Wright, M.D. in his newsletter and on Amazon
Dr. Gonzalez and Dr. Isaacs have done an outstanding job presenting this material. It's a compelling biochemical drama with powerful insights and is wonderfully written. The stem cell connections are thrilling. It's a treat to read this book and to see the brilliance Beard applied over 100 years ago. This is an amazing piece of work. Highly recommended for anyone passionate about alternative medicine.

– Stephen Levine, Ph.D. reviewing on Amazon
Linda L. Isaacs, M.D. BIO: Dr. Isaacs graduated from the University of Kentucky, Phi Beta Kappa with High Distinction. She received her medical degree from Vanderbilt University School of Medicine and completed her residency in internal medicine at New York University Medical School. She is board certified in internal medicine.