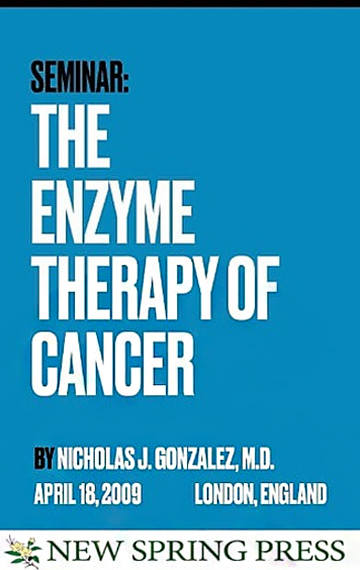 Buy Here
On April 18, 2009, Nicholas J. Gonzalez, MD spoke to an audience of medical professionals at a seminar sponsored by Nutri-Link LTD and held at the Royal Society of Medicine in London, England. Over several sessions, he discussed the scientific support for his approach to cancer and other degenerative diseases. He reviewed the history of the enzyme treatment of cancer, dating back to Dr. John Beard, the British embryologist who 100 years ago first suggested that the pancreatic enzyme trypsin represents the body's main defense against cancer. A reference list and an excerpt
(3.8 MB) are available. Length: 6.5 hours.
Please note: because of problems in the recording process during the seminar, Session 1 has occasional defects in the sound as demonstrated in the excerpt. Session 1 also has some background noise
(1.3 MB) due to microphone problems that were corrected after the first 15 minutes, and there are variations in volume at times in most of the lectures. However, the lectures are comprehensible throughout.
The lectures are available as a download of five MP3 files representing five sessions.