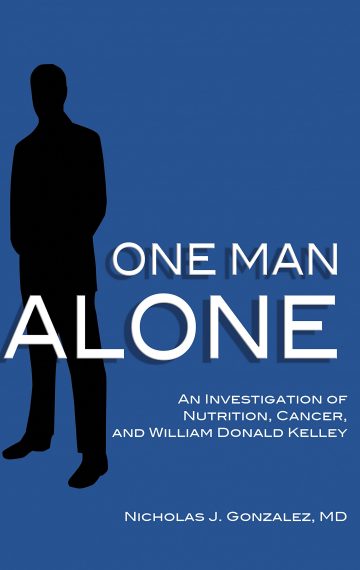 $34.95
Edition:

1st Edition

Available in:

Hardcover

ISBN:

978-0-9821965-6-4

Published:

January 1, 2010
Buy at Amazon
Buy Here
Dr. Nicholas Gonzalez documents his investigation of the nutritional enzyme cancer treatment developed by pioneer and alternative practitioner Dr. William Donald Kelley. The book includes a discussion of Kelley's treatment approach, as well as 50 Dr. Kelley cancer case studies of successfully treated cancer patients along with copies of their pertinent medical records. Although originally completed in 1986, this monograph was not published until 2010, rewritten and with an updated introduction by Dr. Gonzalez. The book honors Dr. Kelley and his courageous cancer patients.
Dr. Gonzalez pursued this comprehensive, five-year analysis of Dr. Kelley's approach as partial fulfillment of his immunology fellowship under the direction of Robert A Good, Ph.D., M.D., "founder of modern immunology."
The book includes 50 detailed case histories of patients diagnosed with a variety of poor prognosis cancers who did well under Dr. Kelley's care, illustrating the value of this nutritional-enzyme regimen.
In the final chapters Dr. Gonzalez reports Dr. Kelley's remarkable success with patients diagnosed with pancreatic cancer.
This book is intended for general informational purposes, not as a medical manual or a how-to book for self-treatment. Please consult with your physician before starting or modifying any treatment program.
FROM THE BACK COVER
Arlene Van Straten, a long-term survivor of pancreatic cancer (Patient #34 in the book):
I would have been dead 28 years ago! Who knew there were still miracles going on around and for us! I had been diagnosed at Mayo Clinic (through surgery and biopsy of the liver) as having pancreatic and liver cancer and given 6 months to live. One day, while shopping, I happened to find a $3 book called One Answer to Cancer. The book was by Dr. Kelley, who at the time had a young, good looking understudy named Nicholas Gonzalez! Yes—the author of this book!

Believe me—you can beat cancer—with the right help. You'll get the answer here! Trust me, and him. Dr. Gonzalez is the best friend you will ever meet and live to tell everyone about. I've been telling my story to everyone who will listen for the last 28 years!

This book should be mandatory reading for every man, woman and teenager! You'll learn about a whole different slant on life."
REVIEWS
One Man Alone: An Investigation of Nutrition, Cancer, and William Donald Kelley is a fascinating book that should be part of everyone's professional library.

– The New Zealand Journal of Natural Medicine
The product of years of research and investigation by Doctor Nicholas J. Gonzalez into nutritional/enzyme approaches to the treatment of cancer, One Man Alone is a 520-page work of seminal medical scholarship that provides the reader with an informed and informative critique of the theories and practices of Doctor William Donald Kelley, a pioneer in the field of treating aggressive cancers. Drawing upon fifty illustrative case histories, the value of nutritional supplements (including large doses of pancreatic enzymes) in the treatment of cancer is presented in this seminal study. Superbly organized, deftly presented, essential reading for all medical and health professionals dealing with the research and treatment of cancers, One Man Alone is a core addition to professional and academic library Health/Medicine reference collections and supplemental Cancer Studies reading lists.
I especially enjoyed Dr. Gonzalez' presentation of Dr. Kelley's case history data. I think the argument relating to the rarity of spontaneous remission dramatizes the power of the results. The case histories themselves are very dramatic, leaving no doubt to anyone with a reasonable mind, of the efficacy of Dr. Kelley's program. We should do everything we can to see that as many people as possible get the opportunity to read these books.

– Stephen Levine, Ph.D., reviewing on Amazon
For me, reading One Man Alone was a medical education. I have seen my own medical records, but this book provides a unique opportunity to review all the relevant medical records of 50 individuals diagnosed with advanced cancers, starting with the early – and often wrong – initial diagnosis.

– Owen Fonorow reviewing in the Townsend Letter