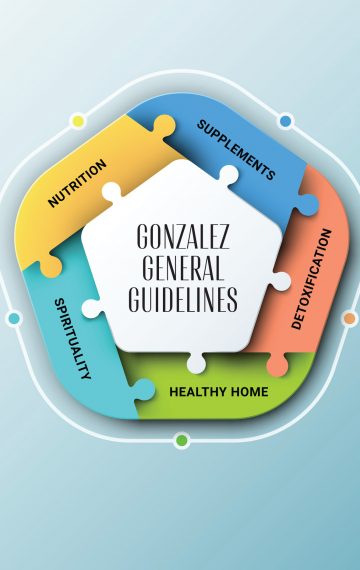 Disease Prevention
$19.95
Available in:

PDF

Published:

May 14, 2022
Download and Buy Here
Disease Prevention and Wellness Advice for Everyone!
Thousands of people have contacted us seeking advice on how they can improve their overall health and prevent cancer or other diseases. From these inquiries, we learned that many people wanted a doctor, like Dr. Nicholas Gonzalez, to advise them on The Gonzalez Protocol®.  And then other people just wanted Dr. Gonzalez's wisdom and guidance about disease prevention and wellness that they could implement on their own.
Introducing Gonzalez General Guidelines – an 8-page downloadable PDF . Now everyone can have general advice for disease prevention and wellness that applies to everyone regardless of their metabolic type.
These general guidelines include Dr. Gonzalez's easy to understand advice on nutrition dos and don't, basic recommended supplements, simple detoxification routines, how to have a healthy, non-toxic home and the importance of spirituality.
Over his nearly 30 years in private medical practice, Dr. Gonzalez made several key observations. People who are able to make healthy food choices, support their body with key nutrients, shield themselves from toxins and maintain an optimistic outlook create an environ­ment in which healing can take place.
Now you can take this simple first step towards improving your and your family's health and limiting the harmful toxicity that surrounds us.
IMPORTANT: You will be able to DOWNLOAD this PDF after you complete your purchase. You will be directed to a screen where the download will be immediately clickable from a green box. This is the only delivery method so please wait for the screen to access your PDF.
Please note:  The information provided is not intended or implied to be a substitute for professional medical advice, diagnosis or treatment. It is published for informational and educational purposes only.