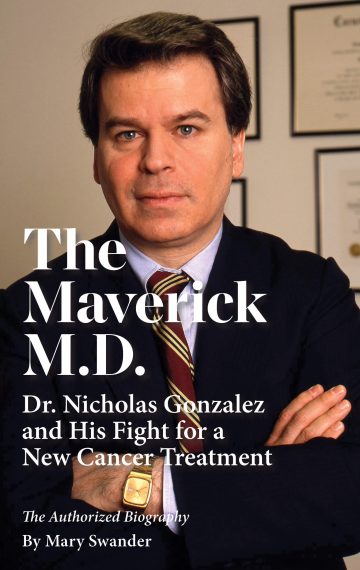 $24.95
Edition:

1st Edition

Available in:

Hardcover, Paperback, Kindle

ISBN:

978-0-9985460-6-3, 978-0-9985460-8-7

Published:

November 23, 2020
Buy at Amazon
Buy Here
Order from your Local Bookstore Anywhere in the World
The Authorized Biography of Dr. Nicholas Gonzalez: When Nick Gonzalez was a medical student, he stood beside his father's deathbed and vowed that he would find a cure for cancer. Nick imagined his future as a researcher toiling away in a lab in Memorial Sloan Kettering, working on conventional approaches to the disease. Yet Gonzalez's life was anything but conventional. At the urging of Linus Pauling, he had already left an accomplished journalism career and entered Cornell Medical School.
Dr. Nicholas Gonzalez's path took another turn when he met the controversial Dr. William Kelley, a dentist who, through an alternative nutritional approach, had arrested his own pancreatic cancer. Kelley had become infamous when he'd tried to help others.
The Maverick M.D. is the story of how Dr. Nicholas Gonzalez perfected the scientific theory behind Kelley's work and put the protocol into practice in New York City. Gonzalez drew courage from his Christian faith, from his Mexican-Italian-American family, and from key loved ones, colleagues and mentors. He spent years treating patients with the most serious conditions–from cancer to diabetes to lupus. But he wasn't satisfied as an outlier in the medical community. He wanted his work put to the test with a clinical trial.
This book portrays a man who fought for the acceptance of a nutritional cancer treatment in the halls of some of the most established U.S. medical institutions. Against intense opposition, Dr. Gonzalez's determination held up until the end–a scientist who developed a therapy that saves lives and promotes the healing of the human mind, body and spirit.
In addition to documenting Dr. Gonzalez's life story, this book provides easy to understand explanations of The Gonzalez Protocol® and serves as an excellent overview for the layperson.
PRAISE FOR THE MAVERICK M.D. – Dr. Nicholas Gonzalez and His Fight for a New Cancer Treatment
Faiz Khan, M.D., Dual Board Emergency / Internal Medicine, Former Chair of Emergency Medicine, Former Chair of Medical Ethics, and Founder of CityMD Urgent Care
With a captivating narrative style – Mary Swander takes the reader on the intense journey which was the life and work of Dr. Nicholas Gonzalez. Every physician and any layfolk interested in health should know of this man, for if the medical science establishment was a true meritocracy, his name would be household. Thanks to Ms. Swander, we can open our mind's eye to his intellect and training – honed through classrooms, labs, hospital wards, meetings with remarkable mentors, athletic fields, and through life's lessons; And witness his dedication, integrity, and resilience – all matched up against many of the perverting influences that have co-opted the medical profession, and science in general. To the very end – he faced them with resounding dignity and resolve, all the while continuing to heal the toughest cancer cases at an incomparable success rate.
Suzanne Somers, Entertainer and Author of 26 books, including Knockout: Interviews with Doctors Who Are Curing Cancer and How to Prevent Getting It in the First Place
Mary Swander's biography The Maverick M.D. captures Dr. Nick Gonzalez's fearlessness and determination to help cancer patients restore their health. I've never met a man with more integrity and conviction of his work. As a cancer patient myself, I have benefited from The Gonzalez Protocol, and I will be forever grateful to him.
Ty and Charlene Bollinger, Founders of The Truth About Cancer
Mary Swander's biography of Nicholas Gonzalez, The Maverick M.D. is a brilliant portrayal of a man who devoted his entire life to finding an alternative cure for cancer. Yet, as we have witnessed, like many medical pioneers who dare to go against the grain of established theory, Gonzalez had to put up a fierce fight to have his research put to the test, and the door to his own medical practice kept open. In crystal clear prose, Swander has created a thriller, a vivid dramatization of the tension, roadblocks and intrigue this Ivy-League, conventionally trained doctor dealt with to the end. Anyone interested in discovering a different approach to cancer and other degenerative diseases should read this book.
Colin A. Ross, M.D., founder and President of The Colin A. Ross Institute for Psychological Trauma
Nicholas Gonzalez was a very amazing person and physician. His life story is an inspiration. This book takes you on a journey beginning with his family origins in Mexico and Italy. His Mexican ancestors survived revolution, war, and very difficult circumstances but throughout all that they thrived as musicians and as a tight-knit family. The story of his Mexican ancestors just barely making it through Ellis Island is very moving, like many things in the book. These family strengths, courage and determination shine out in Dr. Gonzalez's creativity, persistence and brilliance as a cancer doctor. His legacy and his gifts to cancer patients live on in these pages.
REVIEWS
Excerpt: "What we see in this biography of a great doctor and scientist is consistent with a general pattern. The powers-that-be in the cancer in­dustry (or any other) are much more concerned about maintaining their reputation and power than they are about helping people. They turn a blind eye to the damage caused by chemo­therapy and surgery, while hyperventilating over how someone might get hurt by improved nutrition. Experts like this do not think outside the box and they don't want you to either. If you dare to step outside the box, be ready for a fight. If everyone understood this, they might be less willing to submit to the medical dictatorship we see taking over in 2021. The thumb is UP for the book and the man whose box-free thinking enriched and extended so many lives."

– Weston A Price Foundation's Book Review
Excerpt: "There's a spiritual dimension to the program that, if you didn't know who this man was, you might not see that right away," Mary noted. "I did not see it right away as a patient. I began to get my eyes open to his abilities. It's a wonderful read as a medical read, but it's also a wonderful read as a portrait of a true healer. Your eyes will be opened about all sorts of possibilities, medical and spiritual."
Excerpt: "…a riveting account of the life and work of a dedicated and remarkable physician…"
Excerpt: "There is a book out that everyone needs to read. Why? Because it's a whack upside the head and once in a while we all need a good whack upside the head..It's about a man who cured cancer, Dr Nicholas Gonzalez."
Dr. Jonathan Wright's Green Medicine Newsletter
The Stern Method's Podcast with Mary Swander
Townsend Letter's December 2020

– Cover Story about The Life and Work of Nicholas Gonzalez M.D. and a Book Excerpt
Dr. Ron Hoffman's Intelligent Medicine Podcast interview with Mary Swander

– Profiling a Pioneer of Integrative Cancer Therapy, Dr. Nicholas Gonzalez: Part 1 and Part 2
Dr. Tedd Koren's Enjoy a Cancer Free Life video interview with Mary Beth Gonzalez
Robert Scott Bell's The Power to Heal is Yours video interview with Mary Swander

– Mary Swander, The Maverick M.D. – Dr. Nicholas Gonzalez and His Fight for a New Cancer Treatment
Charity Nebbe's Talk of Iowa on Iowa Public Radio November 23, 2020 interview with Mary Swander

– Podcast "AgArts From Horse And Buggy Land" Highlights The Arts In Rural Iowa
One Radio Network's Patrick Timpone audio interview with Mary Swander

– The Maverick M.D. – Dr. Nicholas Gonzalez, and His Fight for a New Cancer Treatment
Dr. Veronique Desaulniers, The Breast Cancer Conqueror, interview with Mary Beth Gonzalez about metabolic typing and her life with Dr. Nick Gonzalez, The Maverick M.D.

– Metabolic Typing and Cancer: The Legacy of Nicholas Gonzalez